ADVERTISEMENT TARIFF 2023-2024
SIRUVAR MALAR
VARA MALAR
AANMEEGA MALAR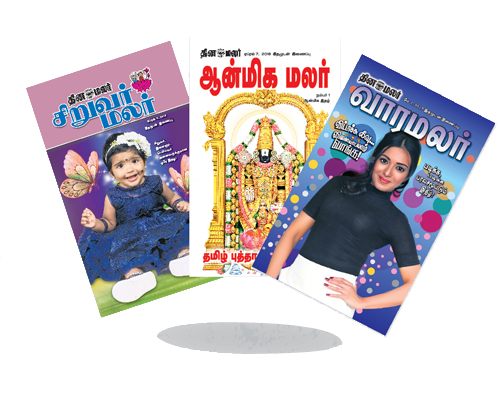 Dinamalar was the first to launch magazines in book form. Its Siruvar Malar on Fridays brings young children entertaining and educative content including mythological tales in interesting formats. Its Sunday supplement, Vaaramalar is highly popular and has engaging content for families.
Aanmeega Malar on Saturdays provides information related to the spiritual and acts as a useful guide to various places of worship.
Split Run
Dinamalar offers split runs for magazine cover pages (colour only) at the following rates
Chennai - Rs. 75,000
Madurai - Rs. 75,000
Coimbatore - Rs. 70,000
Pondicherry - Rs. 50,000
Advertisements Rate in INR
| POSITIONS | COL RS. |
| --- | --- |
| COVER PAGES | 2,15,000 |
| INSIDE PAGE | 2,00,000 |
Full page bleed size 26 cm x 17cm 
Centre spread bleed size 26cm x 34cm
Material must be submitted 15 days before the date of issue of the respective magazine and should be in accordance with the stated specifications.